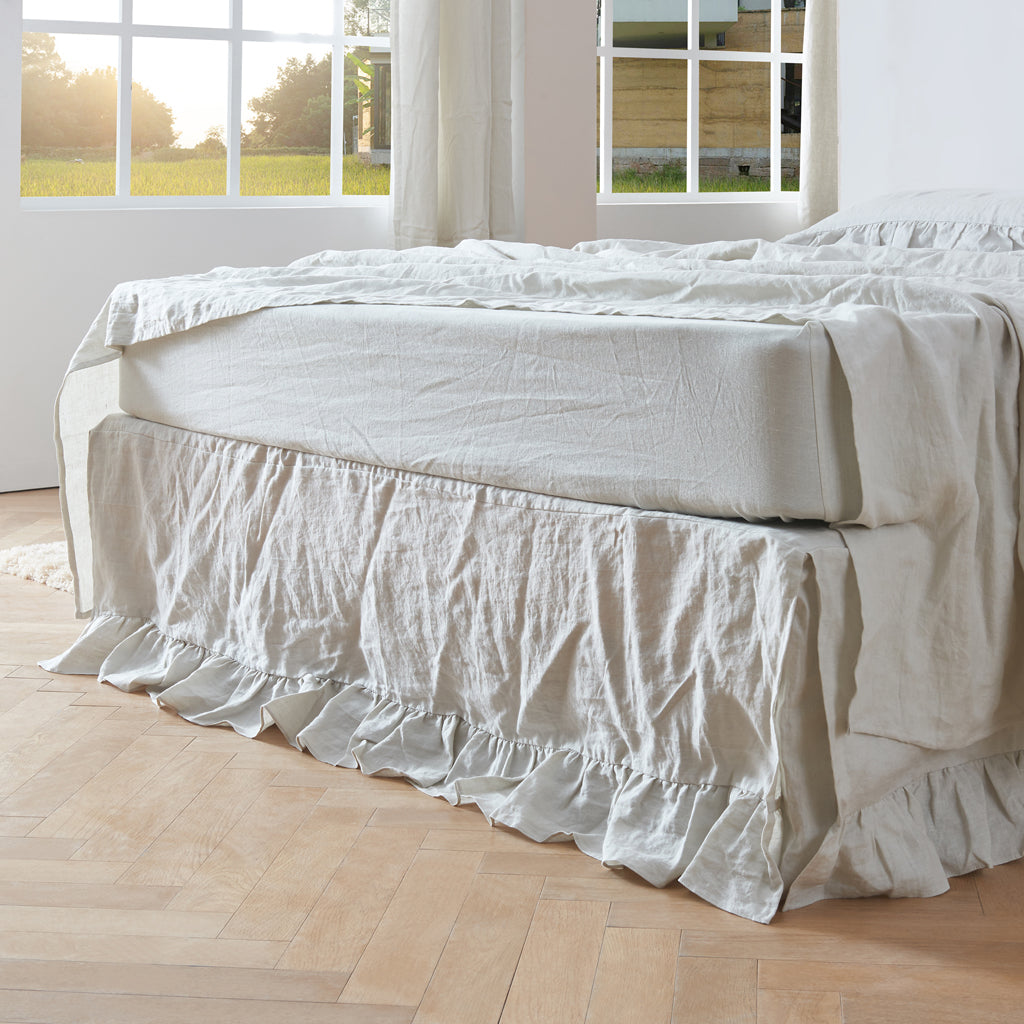 Bedskirt & Dust Ruffle
Experience true luxury and create the peaceful, stylish bedroom of your dreams with a linen bedskirt. Crafted with the utmost care and attention to detail, this sublime addition to your bedding will elevate your bedroom into a sanctuary. Not only does a linen bedskirt transform the look of your bedroom, but it will add functionality and practicality to your space. The simple addition of a linen bedskirt can hide under-bed storage or an unsightly bed frame, keeping your room polished.
Linenforce is committed to providing the highest-quality, 100% linen products to make your house a home. The company was founded by linen experts who simply wanted to share the quality and beauty of linen with the world. With linen products expanding from linen bedskirts to curtains, tablecloths, and more, Linenforce is the place to acquire the best pure linen products available. 

Experience the true comfort and style potential of your bedroom with different types of linen bedskirts, such as:  
Gathered Ruffle Linen Bedskirt
Slit Corner Linen Bedskirt
Knotted Linen Bedskirt
Gathered Ruffle Linen Bedskirt
Crafted from high-quality linen, a Gathered Ruffle Linen Bedskirt combines durability with a fun, boho-chic vibe. The fabric's natural breathability ensures a comfortable sleep experience, allowing air to circulate all around your mattress. Available in a range of colors, this linen dust ruffle can blend with many décor styles and adds a fun embellishment to your room. Not only does this linen bedskirt provide an exciting element to your bedding, but it hides clutter and storage and protects against dust and dirt!
Slit Corner Linen Bedskirt
A Slit Corner Linen Bedskirt from Linenforce adds the perfect element for a sleek aesthetic in your bedroom. This linen bedskirt is the highest-quality linen available, made from the best fibers of the flax plant. If you're looking for a tidy, pristine look with your bedding, look no further. This linen dust ruffle has clean lines and a sleek profile, perfect for those who love the minimalist look.
Treat yourself to a high-quality 100% linen bedskirt to complete your bedroom look!