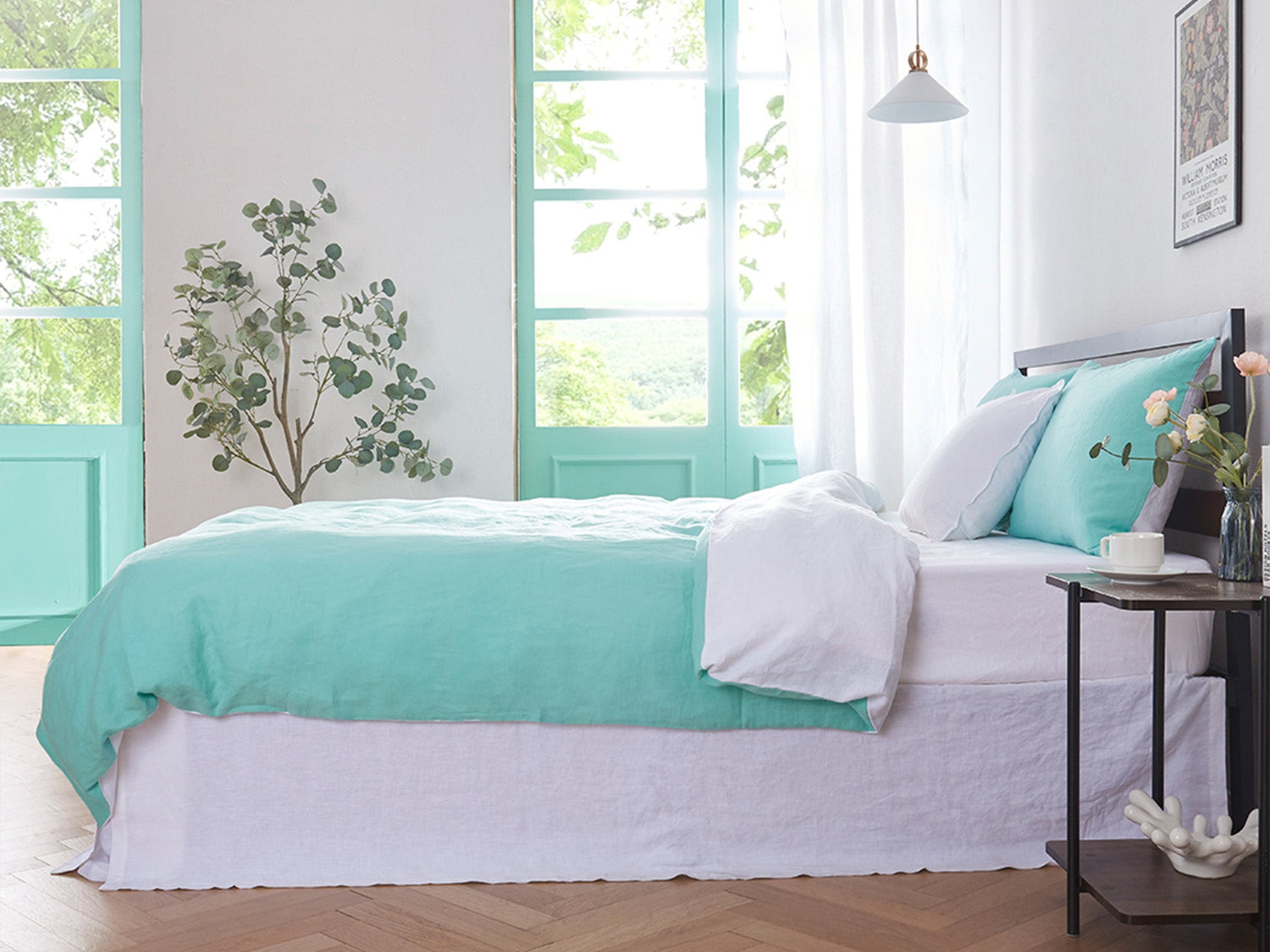 Two Tones Duvet Cover
Distinctly stylish, our two-tone duvet covers are the cherry on top of your bedding. Made from 100% linen, our duvet covers are expertly crafted from pure linen flax, featuring a two-toned color design to match your home interior palette. Our linen duvet covers are treasured pieces, made to last the seasons.
A true classic, this linen duvet cover with its two-toned charm never goes out of style. Effortlessly elevate your space with the naturally textured elements of pure linen bedding. Designed to keep you perfectly comfortable as you sleep, our linen duvet covers with white on one side and your favorite color on the other work double duty to secure your duvet while adding a touch of sophisticated beauty to your space. 
Linenforce is a brand that is proud to provide high-quality, sustainable linen products for all areas of your home. The brand was created to bring the best linens, like the Two Tones Linen Duvet Cover, to folks all over the world. This linen duvet cover is one of Linenforce's most beloved products, so you can have confidence that your new linen bedding will be functional, gorgeous, and comfortable.
Experience the most sought-after products in the Two Tones Linen Duvet Cover Collection, including:
Cool Grey and White Two Tones Linen Duvet Cover
Peach and White Two Tones Linen Duvet Cover
Aqua Green and White Two Tones Linen Duvet Cover
Cool Grey and White Two Tones Linen Duvet Cover
If you're looking for a gorgeous new neutral to complement any décor, look no further than a linen duvet cover with classic white on one side and cool grey on the other. Grey is the perfect color to match any décor - from minimalist white and black designs to a colorful, larger-than-life look, this grey linen duvet cover will pull everything together. Not only does it look great, but the ultra-secure closures ensure you will never have to fight with your duvet again. This Cool Grey and White Two Tones Linen Duvet Cover offers a secure, attractive solution for your linen bedding needs.
Peach and White Two Tones Linen Duvet Cover
Step into a realm of delicate sophistication with a peach and white linen duvet cover. With a fully reversible design, this peaches and cream-inspired duvet cover is the perfect balance of elegance and fun. As with any Linenforce product, this duvet cover is crafted with meticulous attention to detail using only the very best natural linen. The plush, soft linen bedding only gets softer with time, so it will truly last for years to come. With a gentle peachy hue, you can add a classy pop of color to your space while keeping things functional.
Elevate your home décor and your sleeping experience with a Two Tones Linen Duvet Cover today!